Acne Treatment Program New Jersey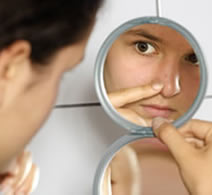 Are you embarrassed by your acne or acne scars? Do you feel self-conscious when people stare and often wonder if they are looking at you or your skin? Maybe you've already tried acne products such as skin cleansers, facial creams or even as a last resort, prescription medications, but your acne still persists.

If this describes you, you're not alone! In fact, almost 90% of adolescents and 25% of all adults share these same frustrations at some point in their lives!

Fortunately, thanks to our new medical program which takes a comprehensive approach to treating acne, you may now be able to put an end to your frustrations and enjoy your day knowing that your skin is clear and will stay clear!

Acne Treatments that Work
There are so many myths, rules, guidelines and products when it comes to acne that it can be confusing to know exactly what you're supposed to do to treat it and prevent it. To help clear up the myths, begin by seeing a doctor trained in treating skin care conditons like acne to determine which type of acne you have. From there a custom acne treatment plan can be created to meet your skin care needs.

At our office, we first analyze your skin then create a customized Clear Skin Acne Program which includes lifestyle and dietary recommendations as well as medically proven acne treatments that work best at eliminating the pimples you have while preventing new acne formation. With this comprehensive approach to treating acne and acne scars, you'll see noticeably clearer looking skin in as little as 30 days!

Microdermabrasion for Acne
If you have acne then you're likely looking for a cure. If so, medical microdermabrasion for acne blemishes and scars is one possibility. Microdermabrasion is a skin treatment where the top layer of skin and dead skin cells are removed along with dirt and debris via a mild abrasive process making it an effective acne and acne scar treatment. People generally have several treatments to reduce or eliminate their acne.

Pharmaceutical Grade Acne Products
Visit any drugstore and you can spend hours comparing the various acne cleansers. It's enough to make your head spin. There are washes, scrubs, foams, gels and even masks. However, pharmaceutical grade acne products can do the job better and faster. From prescription strength acne treatment cleansers like benzoyl peroxide and salicylic acid to acne treatments like tea tree oil and acetone, prescription grade acne skin care products as part of a complete acne treatment program can improve your complexion fast.


Clear Skin Consultation with a Licensed Healthcare Professional:
Beginning with a complete skin assessment and complexion analysis, your skin care professional will then design a
personalized Clear Skin Action Plan

™

specific to your skin's needs.
The number of treatments and types of acne therapies used will be determined by the type and severity of your acne.


Cleanse, Exfoliate and Treat:
During this phase your skin is cleaned and exfoliated with the use of chemical peels, microdermabrasion and physician grade skin care products with the goal being to clear clogged/congested pores,
reduce acne-causing bacteria and oil production from the pore glands.


The Body Focus Healthy Skin Nutrition Plan™:
Changing your diet is the easiest, most effective & least expensive acne home remedy. Studies have found that when people who suffer from acne, particularly severe acne, go on a low glycemic diet their skin clears up. With this 30-day diet plan, you'll begin with the Cleanse21™ Real Foods Detox to help clear toxins from your system, then transition into a calorie specific low glycemic diet.


Body Focus Essentials

™

Supplement Plan:
Similiar to changing your diet, this home remedy works from the inside out. Nutrients like probiotics and antioxidants, help strengthen your immune system and keep infections and other bacteria in check. For this purpose, as part of your Clear Skin Diet Plan
™
, you'll be given the Body Focus Essentials

™

Probiotic Formula & Immunity Blend to take each day during your acne program.


Clear Skin Maintenance Plan:
Since acne is a recurring problem, a Clear Skin Maintenance Plan will be designed
to help keep acne blemishes away. This plan will include
periodic follow up visits as well as
a home care regimen including physician-grade
skin care products
and nutritional supplements
.
"Love the Skin Care for Anti-Aging"
I just wanted to say I love this Antiaging Skin Care line. I've spent so much money on skin care products that did not work, left my skin either greasy or dried out.
This line has improved the texture and lines on my face. The first night I used the glycolic cleanser it did such a great job of exfoliating skin. I was skeptical at first thinking here we go again, but the results were great!! The Retinol helped my large pores improve and diminish in size. The cream is not greasy, won't clog your pores.
Love this line and I'm a happy customer.
Jessie