Quit Smoking Laser Treatments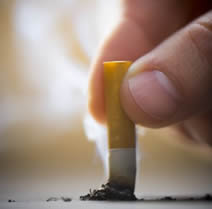 Quit Smoking Laser Treatment Cost: A Small Price to Pay for Renewed Health
Quit Smoking Laser Treatment cost in NJ is less than the average smoker's monthly cigarette bill.
The World Health Organization estimates that tobacco usage causes 5.4 million deaths world wide; known consequences of smoking include lung cancer, cardiovascular disease, and emphysema. But besides the health risks associated with smoking, there are economic costs as well. For instance, each state actually spends about 8% of their total expenditures for the maintenance and cure of smoking related sicknesses. And if you smoke just one pack of cigarettes a day, you're spending about $3,000 each year to keep your nicotine habit going! And if you've smoked 10 years… that's would have cost you $30,000!
Fortunately, the cost of our Stop Smoking Cessation Programs and Quit Smoking Laser Treatments (Quit Smoking Laser NJ) is less than the average smokers monthly cigarette bill which is a small price to pay for renewed health! To get started, call 973-664-7891 or contact us today for a FREE Quit Smoking Laser Treatment Consultation.
Stop Smoking Cessation Program featuring Quit Smoking Laser Treatments Can Help You Become an Ex-Smoker At Any Age!
People will often use the excuse that they are too old to stop smoking and assume that because they have been smoking for most of their life it seems pointless to stop in their latter years. What they should realize is their body will start repairing the damage that has been done from long term smoking as soon as 20 minutes after their last cigarette. Yes, your health will begin to start improving that soon.
Keep reading now to learn how our Stop Smoking Cessation Program and Quit Smoking Laser Treatments can help! We even offer the Body Focus Cleanse21 ™ Detox Diet to help remove toxins from your body while preventing the dreaded weight gain which often occurs when attempting to quit smoking.
The Health Benefits That Come With Kicking-the-Habit:
• Within that time your blood pressure will begin to decrease as will your pulse rate.
• Within approximately 8 hours the levels of carbon monoxide that are present in the blood will drop and there will be increased levels of oxygen which is crucial for optimum health.
• Within two days you will begin to regain some of your sense of taste that you probably didn't even realize you had lost. Food will taste and smell better and your sense of smell with all things (e.g; flowers) will begin to improve.
• Three days later and you will be having less difficulty breathing as the bronchial tubes will have relaxed. As your breathing becomes more relaxed, so does your whole body and your outlook on life. Stress levels will be lower and the chance of having anxiety problems will also diminish. Quit smoking laser treatments are particularly effective in helping with this.
• Over the next three months breathing will continue to improve and along with that there will be an increase in energy levels and exercising will become easier.
• After the first year of ceasing smoking there will be 50% less chance of heart disease and four years or so later the chance of lung cancer will have also decreased by 50% or more.
• By 10 years or so your health will more than likely be back to that of someone who had never smoked and the pre-cancerous cells will have been replaced.
To get started, call 973-664-7891 or contact us today for a FREE Quit Smoking Laser Treatment Consultation.
If You're Looking for a Stop Smoking Cessation Program and Quit Smoking Laser in NJ, Give Us a Call!
Quit Smoking Laser Treatments are safe, non-invasive, drug free and painless. They involve the application of a soft laser beam that targets specific energy points (meridian or Chi points) located on the hands, ears, nose and wrists. Stimulating these energy points helps stimulate the release of endorphins, the body's own natural chemical, which helps with the relief of pain and stress. When a smoker stops smoking, a sudden drop in endorphin levels leads to symptoms of stress and tension. To get started or to discuss the quit smoking laser treatment cost, call 973-664-7891. You can also contact us online to schedule a FREE Quit Smoking Laser Treatment Consultation.

Studies have shown that nicotine releases endorphins to the smoker, which gives them a sense of relaxation. The laser acts as a calming agent so that when you stop smoking, the withdrawal symptoms often associated with quitting are either greatly reduced or completely eliminated.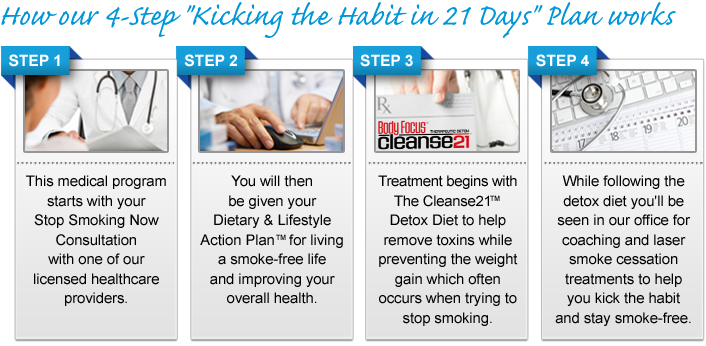 To get started, call 973-664-7891 or contact us today for a FREE Consultation or to learn more about the Quit Smoking Laser Treatment cost.
Body Focus System Weight Loss Success
I'm a 40 something year old guy that over the last 10 years has slowly but surely gained weight. I have never been the type of guy to diet, but after having to go for sleep apnea testing, starting medication to control my high blood pressure, and being 40 pounds overweight, found it was time to do something.
I went to a Body Focus System seminar to hear what they had to say and I was surprised. The Detox is what really got my attention. I had always wanted to try a detox, but did not like the thought of having only liquids or having to drink some crazy mixture that tasted like who knows what.
I decided to sign up and give this "diet" a try. I cannot tell you how happy I am that I did! Let me first tell you about the detox. I started with the fruit detox in August and from the first day there was more to eat than I ever expected. I always assumed a diet would be about eating food you don't like and trying to forget about how hungry you are. With the detox, there were days that I was eating a snack before I was even hungry. I lost over 7 pounds during the detox eating fruits that I like and not feeling hungry at all.
Read More
Alex D. / Columbia NJ